WebCookiesSniffer is a packet sniffer tool that captures all Web site cookies sent between the Web browser and the Web server and displays them in a simple cookies table. The upper pane of WebCookiesSniffer displays the cookie string and the Web site/host name that sent or received this cookie. When selecting a cookie string in the upper pane, WebCookiesSniffer parses the cookie string and displays the cookies as name-value format in the lower pane.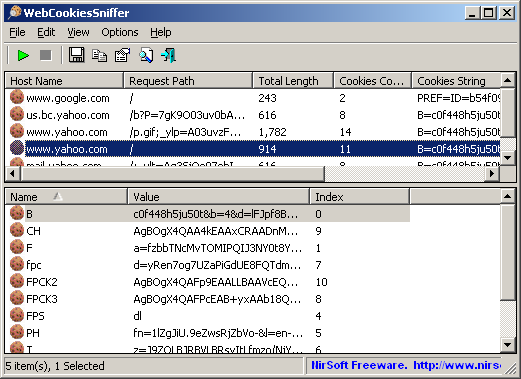 Requirements:
1) WinPcap : an open source capture driver that allows you to capture network packets on any version of Windows.
2) Microsoft Network Monitor Driver version 2.x (Only for Windows 2000/XP/2003):
Download
3) Microsoft Network Monitor (3.x) (For Windows 7 ) :
Download
Limitations :
Cannot capture files of a secured Web site (HTTPS)
If you enjoyed this post, make sure you subscribe to my RSS feed! Comments are encouraged.