install the
Website Blocker extension
. Edit some settings and you can block any website for as many hours as you want.
Choose the settings wisely and the extension provides a simple interface to block websites, as many as you want and at custom times you want. You can also type an optional message.
How to Block Any Website for Employees / Users
This extension works well if you want to prevent access of social media sites by your employees. Simply block the sites during working hours and they will never know how to access them.
1. Hide the Website Blocker icon from the Chrome toolbar. Right click the icon and click "Hide button"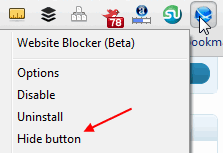 2. Disable the link from showing in the block message alert which can guide people to disable the options. Also disable the ability to edit settings from the popup alert options
Unless people really know how to browse around into Chrome settings, identify the website blocker, experiment with its settings and disable it – it should work to block websites for most people. Just keep Chrome as default and only browser on the computer.